I would love to show you what creative work I have done these past few weeks...hopefully from next week I will post them as they come up;-) First my DT work at
Sketch Support.
Two-page Sketch #25
You can download and print this sketch by clicking on the two-page sketches link found under the "printable sketches" tab on the right sidebar of the Sketch Support blog. If you are ever stuck and you moyo has gone AWOL on you, I suggest you visit Sketch Support and see the lovely sketches by Allison Davis and the DT work based on it...I am sure it will be a wonderful way to kick start your creativity.
"Kidds Beach Paradise Found"
Supply list
-
Cardstock:
Bazzill;
Printed Papers:
Creative Imaginations (Beach Cottage);
Stickers:
Creative Imaginations;
Flowers:
Prima;
Metal shells:
Karen Foster;
Alpha:
Pink Paislee, American Craft;
Rub ons:
Scrapbook King.
Variation#1:
I changed the sizes of my photos to two 4x6, two 4x4 and four 3x2.
Variation#2:
I framed the one vertical strip with a complimentary printed paper.
Variation#3:
I replaced the flower embellishment with a cluster of flowers.
Variation#4:
I added a cluster of shell embellishments to the right corner.
••••••••••••••••••••••••
I decided to do a mixed media project based on this sketch to add to my Scrapbook Life Journal.
"Search my Heart" mixed media project
Supply list
-
Cardstock:
Bazzill;
Printed papers:
Basic Grey (Bittersweet);
Letterstickers:
American Craft Remarks;
Glitter:
Doodlebugs;
Stamps:
Prima;
Other:
Acrylic Paint and Mod Podge.
Variation #1:
I painted my background and shaded it with various colors, I then used various clear stamps to create texture.
Variation #2:
I cut my hearts freehand and mod podged it to the paper.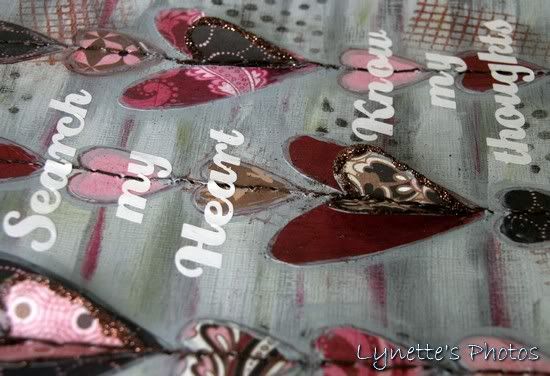 Variation #3:
I added my stitching to make the heart garlands.
Variation #4:
I added glitter to the edges of the layered hearts and stitched it to the background.
Variation #5:
I added the lettering of a Scripture between the hearts
.
******************************************************
Sketch #2
For this challenge you have to use Fab Scraps products. Go on over to the blog to see what the other members of the Design Team did...and do enter as there is a wonderful prize up for grabs.
Here is my take on the sketch.
I love the background paper that I used for this layout. It is called Shabby Chic Stitched...I teamed it with the red and cream dotted classic Black Birds paper. The photo's are of my grandson and son on the tractor at their small holding. He insists on helping daddy and as you can see it is hard work for such a small little boy.
Now it is your turn. You have until 8 March to make your layouts and stand a chance of winning wonderful prizes from Fabscraps.
There are two prizes for grabs to the value of R250 ($35) each.
The random will choose two winners among the participants on 23 March after the closing date for our second challenge.
The prize will be posted anywhere in the world.
Have a wonderful creative weekend.