Yesterday afternoon when I picked up our three little ones from creche for their sleepover with us, I announced that we are going to the movies. Lukas had been before but not so for Dewan and Leane...so excitement reached fever pitch by the time they had their supper, was bathed, dressed and ready to go. I talked DH into coming along. I knew that handling three might not be that easy on my own.
We went to watch the animated movie "Sammy's adventures". We were the only people in the cinema...so nobody cared if the children laughed out loud...when we explained a scene... or when Dewan and Lukas made the chairs a jungle gym. The children loved the movie...and sat mesmerized for the first hour...then their concentration waned and they started getting fidgety.
After the movie they wanted to visit the loo, because Leane needed to go. Thinking that DH will take care of the boys we entered and I helped Leane. What an adventure followed. When I walked out of the stall I found a discarded nappy lying on the floor and then I found Dewan in another stall...just his feet, head and and hands (holding on for dear life) sticking out from the loo...it was hilarious! Lukas was found in another stall doing something similar. It took ages to get bums wiped, hands washed and dried...and washed and dried....and washed and dried. It became a game...when I was busy with one, the other would get their hands wet again. During all this DH was sitting outside without a care in the world.
Then it was time for ice cream at the Wimpy. Lukas demanded to know where the play area was and when he was told that there is no play area he wanted Oupa to take him to the Spur. Dewan swung like a monkey from the bars that separated the Wimpy from the mall. Leane developed a "head ache" because the ice cream was too cold (I kid you not). When we laughed at her she even managed to squeeze out two huge tears to prove it.
Okay...onto something crafty. This week at Sketch Support this is the sketch that is being showcased. To see the wonderful work done by the design team and the different variations to the sketch...visit
Sketch Support.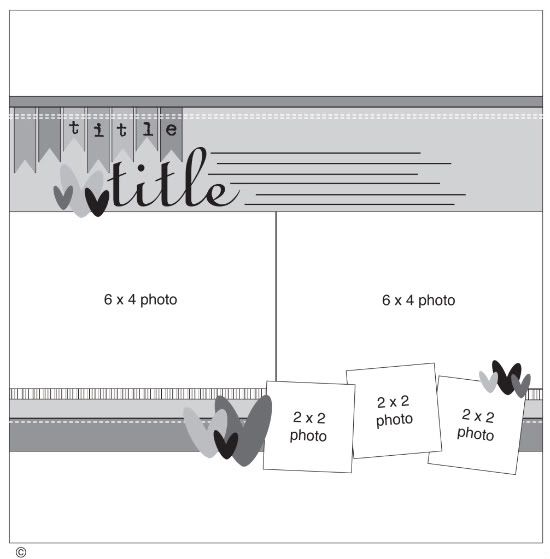 You can download and print this sketch by clicking on the one-page sketches link found under the "printable sketches" tab on the right sidebar of the
Sketch Support blog
.
Here is my layout based on the sketch. I stretched the sketch over two pages.
"Best Friends"
by Lynette Jacobs
Supply List
-
Cardstock:
Bazzill;
Printed Papers:
My Mind's Eye (Stella and Rose Hattie);
Brads and stickers:
My Mind's Eye (Stella and Rose Hattie);
Letters:
Basic Grey;
Quotes:
SRM Stickers and Kaiser Craft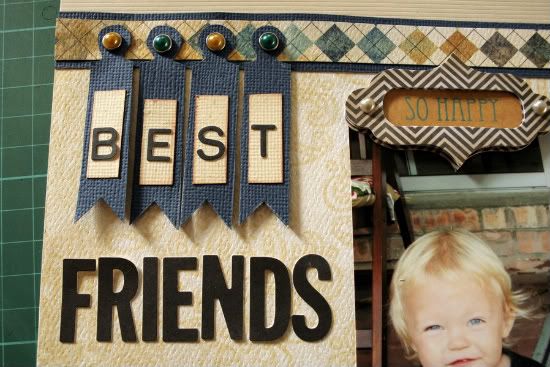 • My top strips are 12 x 1/2 and I attached it to coordinating cardstock measuring 12 x 3/4.
• The large background pieces measures 12 x 7-3/4.
• Striped strips are 12 x 1/2.
• Bottom strips are 12 x 1/2 and attached to coordinating cardstock measuring 12 x 1.
• I used an A5 and three 4x6 photos and the three little photos measure 2.5 x 2.5.
You can also upload your layouts based on Allison's sketches to the Flickr gallery. The link is also in the right sidebar of the blog.